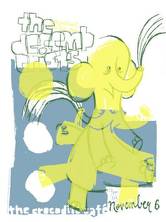 The Decemberists
are one of those bands I knew existed and on the few times I heard a song of theirs I thought "I really like this" and then promptly forget about them. Well oh foolish me! Having now heard their three albums, including "Picaresque" out TODAY I have seen the error of my ways and if you haven't already implore you to do likewise. Definitely ploughing their own furrow the band take that mainstay of pop songs the sailors lament, or tales of Chim(b)ley sweeps and turn them into wonderful pop moments with a sprig of amateur dramatics thrown in for good measure. Basically the whole thing has the capacity to suck badly but the band carry it off with aplomb. Ten years ago the band would have found their spiritual home on El Records and now they're on Kill Rock Stars. Go figure. The songs below represent one track from each of thier albums and if you pop over to the Brooklyn Vegan blog you can find a live cover version of a Joanna Newsom song. If you like the image above you can purchase the limited edition poster of it at the link below as well.
Download
- The Decemberists - The Soldering Life
from "Her Majsty The Decemberists
Download
- The Decemberists - How I Dreamt I Was An Architect
from "Castaways And Cutouts"
Download
- The Decemberists - The Engine Driver
from "Picaresque"
The Decemberists cover Joanna Newsom
here
The bands website canne be found
here
Buy the poster show above
here