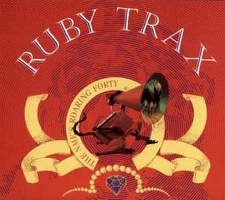 I picked up the vinyl box of the NME's Rubytrax compilation yesterday which features a whole bunch of top bands in 1992 covering their favorite number one singles. So what I thought I'd do is give you a list of what's on the albums and you can email me if you have something you'd love to hear. Email me at steve@redrosesforme.com or post a comment, and over the next week I'll post the most requested songs here.

The choices are:

The Wonder Stuff - Coz I Love You, Billy Bragg - When Will I See You Again? Jesus And Mary Chain - Little Red Rooster, The Mission - Atomic, Fatima Mansions - (Everything I Do) I Do It For You, Saint Etienne - Stranger In Paradise, Wedding Present - Cumberland Gap, Aztec Camera - (If Paradise Is) Half As Nice, Dannii Mingoue - Show You The Way To Go, Welfare Heroine - Where Do You Go To My Lovely, Blue Aeroplanes - Bad Moon Rising, Senseless Things - Apache, Teenage Fanclub - Mr Tambourine Man

Carter USM - Another Brick In The Wall, Blur - Maggie May, Tears For Fears - Ashes To Ashes, House Of Love - Rock Your Baby, Frank & Walters - I'm A Believer, EMF - Shuddup Your Face, Suede - Brass In Pocket, Tori Amos - Ring My Bell, Kingmaker - Lady Madonna, Marc Almond - Like A Prayer, The Farm - Don't You Want Me, Ned's Atomic Dustbin - I've Never Been To Me, Boy George - My Sweet Lord

Jesus Jones - Voodoo Chile, Bob Geldolf - Sunny Afternoon, Johnny Marr - The Good, The Bad & The Ugly, Cud - Down Down, The Fall - Legend Of Xanadu, Siinead O'Connor - Secret Love, World Party - World Without Love, Inspiral Carpets - Tainted Love, Elektric Music - Baby Come Back, Ride - The Model, Vic Reeves - Vienna, Tin Machine - Go Now, Curve - I Feel Love, Manic Street Preachers - Suicide Is Painless.