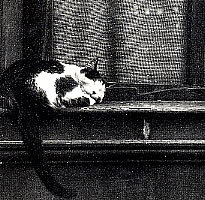 As there appears to be a severe lack of guinea pig songs, today we have three songs devoted to our feline friends. First up Belle And Sebastian's 'A Century Of Elvis' or their 'Century Of Fakers' tune with Stuart David doing a Looper over the top. The story kind of links to his 'Impossible Things' song and was the first time, I think, anyone heard his dulcet tones.

Next is The Old 97's 'Murder (Or A Heart Attack' taken from their "Fight Songs" album, which for me is the point their country punk early releases got a poppier edge and were all the better for it. A suitably scrappy version can be found on their live CD that was released last week.

Lastly a song from the most recent Weakerthans album 'Reconstruction Site' which contained some great upbeat moments alongside their more introspective songs that dominated their first two releases. Hopefully a new album is around the corner.


Buy all three albums here

Belle And Sebastian live here

The Old 97's can be found here

The Weakerthans reside here