Firstly, Happy New Year!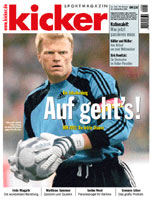 Secondly, to start a new year I thought I'd talk about one album I'm most looking forward to in the next few weeks. That is "Wild Mercury Years," the debut album by
Kicker
, which is due out on the excellent Track and Field label in the UK in the next few weeks. I first heard the band as they had made the questionable decision to link to Turquoise Days on their website so of course I felt duty bound to check out their MP3 both there and on the Track and Field website. The first songs I heard were two recorded acoustically for a radio show and I was totally blown away, a mixture of indie guitar pop that's got a Northern soul edge, and the spoken interlude in "No More Tears" is just so cool. Prior to the album the band has released five excellent singles, which are all collected on the compilation "Fivefortyfives" and after getting this it's made my wait for the album even harder.
Download
- Kicker - Get Rid Of Him (acoustic version)
Download
- Kicker - No More Tears
The Kicker website with more downloads can be found
here
Track and Field website with even more downloads is
here