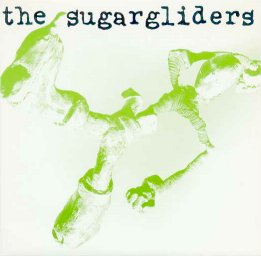 The Sugargliders
were Josh and Joel Meadows, Australian brothers who started off releasing a bunch of wonderful 7" singles on the Melbourne label Summershine, one on short-lived English label Marineville and then ended up on Sarah records where another four or five singles followed. The perfect singles band, where their almost totally acoustic sound and harmonies blended perfectly in three minute moments they declared they would never record an album until it was as good as the first Orange Juice album. Rightly or wrongly they never did. The only full-length release, "We're All Trying To Get There," was a compilation of the Sarah records singles and sadly like everything else they released has long been deleted. Josh and Joel went on to form The Steinbecks who have intermittently released some fine songs since, most of which can be purchased from their US label, Microindie
here
.
So facing the dilemma of which Sugargliders songs to include today I whittled it down to four which is more than usual but I hope you enjoy them.
Download
- The Sugargliders - Surprised
– Released originally on a cassette with one of my Red Roses For Me fanzine and resurrected on our first CD "A Boy, A Girl and A Rendez-Vous" which you can find further details of
here.